Other support services for family violence
This list covers many organisations and services that can help you if you're experiencing family violence.
Your employer can help
If you're affected by family violence and have been working in a job for at least 6 months, you can get up to 10 days' family violence leave. You can also ask for short-term flexible work arrangements.
Talk to your manager or HR representative to ask for family violence leave or flexible work arrangements.
If you haven't been at your job for 6 months yet, it's still worth talking to your manager about your situation to see what support is available.
Online safety
Private browsing (also called incognito browsing)
Private browsing or incognito mode prevents your internet browser from storing your internet history on your device.
If you are worried that someone can access your private computer it might be better for you to use another one at a library, a friend's house, or work.
You can read more about how to connect safely on Netsafe's website here.
Find out how to use this website safely here.
Netsafe
Netsafe is a non-profit organisation focused on online safety. Netsafe helps people stay safe online by providing online safety education, advice and support. They can help with online issues such as bullying and abuse, scams, image-based abuse, and online and device safety.
Netsafe's contact centre is available from 8am–8pm weekdays and 9am–5pm weekends and public holidays.
Police Safety Orders – Protection Order, Police Order, Trespass notice
The police can issue different kinds of orders to protect you from an abusive person.
Protection Order
A Protection Order is issued by a court. It gives you legal protection from the attentions of an abusive person that you are in a close personal relationship with. A Protection Order includes non-violence and non-contact conditions.
Anyone can apply for a Protection Order. Contact a lawyer or a women's refuge service. You can read about getting a protection order on the Citizens Advice Bureau website.
If you can't afford a lawyer, you may be able to get legal aid. You don't need to pay back legal aid for a Protection Order.
Police Safety Order
Police Safety Orders allow police to remove a person from a property. Police can use a Safety Order if they believe not removing the person could result in a serious incident, but there is not yet enough evidence to make an arrest.
Police don't need consent from the person at risk to issue the order. The order also imposes non-contact and non-violence conditions as long as the order is in place.
Police can make someone leave the property for up to 10 days, but usually 1–2 days.
Trespass notice
You can ask someone to leave your property or give them written notice to leave.
You don't legally have to give the notice in writing, but it can be helpful if they say they didn't know you wanted them to leave. You can drop the notice at their feet if they refuse to accept it.
If they come back onto your property or don't leave, they will have committed an offence and you can call the Police.
Find out more about a Trespass notices on the Police website
Report an order breach
You can report a breach of any Protection Order, Police Safety Order or Trespass notice by:
Whānau Protect
Whānau Protect is a home security and safety service for high-risk victims of family violence. Whānau Protect provides support and resources for victims and their children who do not want to, or cannot, leave their homes.
Whānau Protect is a six-month service and includes a monitored safety alarm and improvements to home safety. When the alarm is triggered, police are notified, and the unit activates an audio recording.
Find out more about Whānau Protect on the Women's Refuge website
Work and Income
If you are living with or leaving family violence you can talk to Work and Income. Work and Income has specialist staff in each region who can help you access the right support services, depending on your need. This could include:
financial help to get back on your feet — including benefit payments, help with accommodation costs, special needs grants and other assistance

help to find somewhere to live — including information on housing options in your area and, if needed, an assessment for social housing

referring you to other support services and agencies able for help.
Find out more about support you can get from Work and Income
MoneyTalks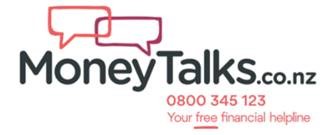 Money and finances are a common challenge in relationships. If you have concerns about how your partner controls money in your relationship or just want to talk to someone about planning for the future, there are free services available.
Contact the financial helpline MoneyTalks to talk to a trained financial mentor who can provide free and confidential advice and connect you with services in your area.
MoneyTalks can also connect people with local foodbanks, help to navigate Work and Income processes and support them to manage their finances.